A r t i c l e s A n d C a s e S t u d i e s
Tarka, Barefoot Treatment of Severe Coffin Bone Rotation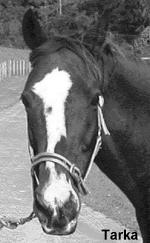 Tarka is a 17 year old, 15.1hh TB mare that was rescued three years ago by her previous owner, Julia, in Rotorua. Mid-2002, the farrier picked up that she had rotated her coffin bone which x-rays confirmed at 30 degrees. The vet advised putting her out of her misery, the farrier said he could stop the rotation but could no reverse it.

In the six months we have been barefoot we have seen phenomenal results, only around 2cm to go to full hoof capsule regrowth and good realignment of the coffin bone! We have had amazing comments from 2 vets & a farrier of what improvements we have made to her feet in such a short space of time.

Tarka's Story . . .
Tarka had been turned out on a dairy farm after the teenage owner went off to university & her parents thought that she should be retired.  So they stuck her out in a paddock & was just left there for her toes to curl right up & split until she was almost walking on her pasterns.

The day she was to be picked up, the owners had had her feet trimmed so brutally short that she was basically nobbled for the next few weeks.  She was moved to a friends racing stable for initial recuperation.

A Sorry Sight
On arrival she could barely lift her head more than six inches off the ground & you could count her ribs, her hips stuck right out - you can just picture the sorry sight.

There would have been many sleepless nights worrying about her.  Her vet recommended that she should be put out of her misery.  But no, Julia persevered.  Once back in Auckland, she started to come along slowly, abscess after abscess but she slowly started to gain weight, was bright eyed & bushy tailed, obviously revelling in all this new found attention.

After about 8 months (I'm guessing here) Tarka was rideable but no x-rays were ever taken.  No vet or farrier had picked up that her coffin bone had rotated, or even suspected this might happen.  She had a wonderful couple of years with Tarka, but found that she was just a bit too little at 15.1hh so decided to sell her on in May 2002, to concentrate on her 16.2hh gelding.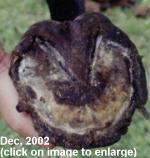 Tarka's New Home and Diagnosis
Here we come in.  We still graze with her old owner. About June 2002 our farrier thought that her coffin bone had rotated so we arranged for x-rays.  Sure enough it had, severely.  Approximately 30 degrees in her front left foot.  20/20 hindsight, we should have got x-rays of her other foot as well.  She has a suspected sunken Coffin Bone in her front right.

Close to Sole Penetration
Our farrier was saying that she could be pretty close to sole penetration (Oh my GOD!).  So now we go on to corrective shoeing.  First we had 3-4 months of egg bar shoes.  She was happy as Larry with those - never cast a one. Then into heart bar shoes - within a week - they were gone.  Must have been very uncomfortable.

Searching for a Solution
Meanwhile on the internet researching her condition, talking to my vet who thought she also should be put out of her misery, talking to the farrier who said that he can stop the rotation but cannot reverse it.  All that is going through your head is 'oh hell' and '$ $ $'.

Discovering Barefoot
 After some questions posted on the internet, I was put in touch with a barefoot trimmer, who said to me that in no way is this a death sentence.  So she agreed to come out & see Tarka & talk to me about barefoot. Given 3 hours of deliberation, I & Tarka's owner decided to take the plunge into the deep dark world of barefoot and haven't looked back since.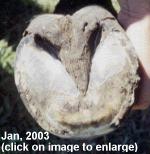 Tarka's Barefoot Trim
I was amazed at how phenomenally basic the trim is.  Rocker her toes right back.  Keeping her walls level with the sole as they were so thin & brittle.  Bringing down her heels (but not so much she is sore).  This was in December 2002 that we took her shoes off.

A Rocky Road to Recovery
We had some worrying times, a few panics, a few more bouts of laminitis.  She was turned out from December & took on walks up & down the right of way, around & around the paddock.  Come February she had had 5 trims.  I then attended the Paul Chapman clinic in February.  Which gave me a huge boost of confidence.  I have our wonderful barefoot trimmer come out about every 2 months or so to make sure I have everything in the right place.

Getting Better
In June 2003 we found ourselves without grazing and decided to do the door knocking/flyer approach.  We took Tarka in hand for 7km's on the road she was s w e e t!  Only the last 1km from home she picked up a stone which gave her a bit of grief.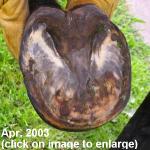 Tarka's First Ride - walk, trot canter!
Well on Saturday 12 July 2003 we took Tarka for her first actual ride in 7 months.  We walked, trotted, cantered (she led out on her really bad foot too).  Not a limp, wince or head bob in sight.  She was a bit on the fresh side but that was to be expected after such a long time without a rider on her back.  All she wanted to do was go faster.  Doing a bit of a dance as if to say - woohoo this is fun.

Well you can imagine me, in the paddock, literally jumping up & down screaming YAHOO!  This Saturday, we are going to try a little ride on the road - maybe 1km.

Oh I am soooooo thrilled!

Penny Varley.




Related article: Natural Treatment of Laminitis/Founder by Jenny Lomas.





Submit an Article or Case Study
The more we share information, the better off our horses are going to be. If you'd like to share your story, please email the editor.


Disclaimer: Natural Hoof reserves the right to change or edit any part of all articles and case studies submitted to this website. Natural Hoof does not take any responsibility for the content of any articles and/or case studies and/or any misapplication of the information presented in any articles. Natural Hoof presumes readers consult a professional for more information about any topic covered in any Natural Hoof article.



Home | Articles | Study Groups | Clinics-Events | Brag | Classifieds | Order | Links